Google Updates AdWords for a Mobile-First World!
Google announced that some big changes are about to take place in AdWords for mobile users and local businesses later this year.
This is probably the biggest update to happen since Google AdWords was introduced 15 years ago and will undoubtedly change the way we advertise on paid search.
There are 5 main Google AdWords changes that we feel are the most important – read on to find out what they are!
1. Local search ads will show up on Google Maps.
Google is calling this the "next generation of local search ads." The new ad format will appear within the maps platform when you perform a local search. These ads will appear on mobile, desktop, and Google.com, increasing their overall performance.
The new local ads in Google Maps directory will also allow you to personalize copy to include brand logos, inventory and even special offers!
When you see this ad type on Google maps, it will feature your logo in the map itself rather than having it off to the side or only including the name of the company.
Once someone clicks on your logo, your special offers will pop up, as well as the products the user is looking to find.
Another great feature for users searching on a laptop is that Google will automatically show a 'Best Buy' logo indicating which store is selling the item cheaper in the area.

(image from Search Engine Land)
2. Headlines will increase in size, with the possibility of double headlines and more characters in the description.
Back in February, Google got rid of right-hand side ads as a way to improve search experience and unify the look of Google throughout mobile and desktop.
This change left a big gap for advertisers and made it extremely hard for them to stand out from the crowd.
We believe the increased size of headlines in the description is Google's way of correcting this unfortunate update and is very much welcomed by the Click Convert Team.
In tests performed by Google, they found that increasing the font size in headlines increased click through rate by as much as 25%. This is great news for both small and large businesses!

(image from Wordstream)
The increased number of characters allowed in the headlines means we can target your customers more effectively, resulting in better qualified traffic to your website. More qualified clicks will ultimately lead to better quality scores and lower cost per clicks for your keywords. A true win-win for everyone investing in Google AdWords.
In addition to what we've already covered, Google is also expanding the number of characters allowed in the description line from two 35-character lines to one consolidated 80-character line as seen here: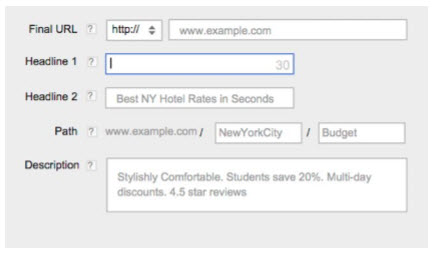 3. Google is making it easier to track online-to-offline conversions.
Google has proposed a better way to cross-match users and track which people are researching online then visiting a retail store to make their purchase.
Google admits this practice isn't all that new since they have already tracked around 1 billion conversions this way, but it is good to know they're making it easier for all advertisers to take advantage this type of attribution.
This is great news because you no longer have to be a huge Nike-like advertiser to take advantage of sophisticated tracking in order to tell if your marketing efforts are paying off.
How is this done?
According to Google, they look at phone location history to determine if a user who searches online actually walks into a store to make their purchase. Stay tuned for new developments on this topic in the near future!
4. Display Ads will become responsive, automatically!
Simply put, Google insists that all you will have to do is insert an URL, a headline, item description, an image, and they will handle the rest.
Ultimately, this means that you will be able to easily run ads across various devices without having to create different ads sizes for every platform or device. Too good to be true? We will have to wait and see.
5. Device bidding is changing, insert smiley face here 🙂
The last, and most important, change has to do with bidding on keywords by device. This is music to the Click Convert Team's ears after Google's unfortunate update 3 years ago when they introduced "enhanced" campaigns.
Google realized they had basically really messed up when they took away the power for advertisers to set mobile, tablet, and desktop bids separately from each other.
At the moment, you have to start by setting a base desktop bid, then set mobile bids as a multiplier of the desktop bid. But now, thanks to Google's planned update, we're finally going to be able to bid as we please and target devices with absolute precision. High-five's all around!
That's all we have for now, but we are very excited with the new changes that will be coming our way by the end of the year!
Stay tuned to this space for more real-time updates about Google AdWords directly from your friends at Click Convert Marketing.